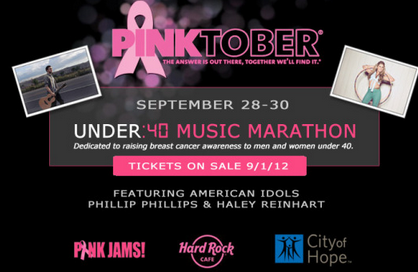 Pink Jams! and the Hard Rock Café are teaming up to kick off Pinktober® and Breast Cancer Awareness month by hosting a live music event targeted towards awareness for under 40 men and women in the Washington, DC area.
TICKETS ON SALE AT: www.PinkJams.org
Headliners: Phillip Phillips and Haley Reinhart from American Idol!
From the evening of September 28th through the afternoon September 30 – we will be playing live music WITHOUT STOPPING. In order to draw attention to an important breast cancer awareness message for men and women under 40 – a wide variety of local, regional, and national musicians will play continuously for 39 hours and 59 minutes.
Click through to see the full schedule for the weekend.
Haley Reinhart, American Idol Friday 7:00pm
Phillip Phillips, American Idol Friday 7:30pm
Driven to Clarity Friday 8:00pm
Gallons to Ounces Friday 8:30pm
Becca Levy Friday 9:00pm
Mike Corrado Friday 9:30pm
HeLO Friday 10:00pm
Brian Franke Friday 10:30pm
Black Dog Prowl Friday 11:00pm
Practically Einstein Friday 11:30pm
Color School Saturday 12:15am – midnight
The Dirty Jacks Saturday 12:45am
Harris Face Saturday 1:15am
Photo Radio Saturday 2:00am
Future Band Saturday 3:00am
ACES and 8s Saturday 4:00am
Johari Saturday 5:00am
Derek Evry Saturday 6:00am
CoolFire featuring B. Blunt Saturday 7:00am
Tanya Dallas-Lewis Saturday 8:00am
Phil Rossi Saturday 8:30am
The Great Unknowns Saturday 9:00am
Grace Bernicker Saturday 9:30am
Phillip Noss Saturday 10:00am
Memphis 59 Saturday 10:45am
Olivia Mancini Saturday 11:30m
MELODIME Saturday 12:00pm – Noon
The Vagabond Union Saturday 1:00pm
Moch Pryderi Saturday 2:00pm
Bravenoise Saturday 2:45pm
Sara Davenport Saturday 3:30pm
Laura Finley with Jackson & Jesse Smith Saturday 4:00pm
Rene Moffatt Saturday 5:00pm
Benny Saturday 5:30pm
Dreamscapes Project Saturday 6:00pm
Matt Tarka Saturday 7:00pm
Andrew Tufano Saturday 7:30pm
Rites of Ash Saturday 8:00pm
The Stolen Camaros Saturday 9:00pm
The Crimestoppers Saturday 10:00pm
the Very Small Saturday 11:00pm
Noise in the Basement Sunday 12am – midnight
Septimius Sunday 1:00am
Burntsystems Sunday 2:00am
Breeze Sunday 3:00am
Chris Aaron Sunday 4:00am
Brittany Jean Sunday 5:00am
Laura Peterson Sunday 6:00am
Rachel Levitin Sunday 7:00am
Harriet Vanderpool Sunday 7:30am
Javier Starks Sunday 8:00am
CD Porter Sunday 9:00am
Shanon Harris Sunday 9:30am
James Britton Sunday 10:00am
Say Chance Sunday 11:00am
Final Raffle Drawing and Hard Rock Check Presentation to City of Hope Sunday 12:00pm – noon