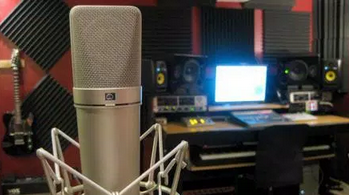 It's been far too long since I openly spoke about the progress of my new recording project. Now is as good a time as ever to bring it back up though.
The entire process, thus far, has been one of the most rewarding musical experiences I've ever had. It's like being back in school and learning something new every day. Some days I teach myself a new lesson, others my producer Dave Mallen weighs in, and then there's the occasional scenario out in the real world. No matter what though, I'm learning.
I've also learned that I've loved every moment of it. Even the moments I'm caught cursing after a flubbed vocal take. In the moment I'm focused and laugh it off in the moment. It's all in good fun.
I can confidently say that this album is something special. I never considered myself a singer when I started writing songs. I just saw myself as more of a performer and storyteller. There's a distinct shift with this full-band project in how I present myself musically. This time around I'm a singer who just so happened to help pen the songs being sung. It's a comfortable stance to take and I'm savoring it.
There's a projected release for this project of 2013. So you've got that to look forward to. In the mean time, I'm going to keep going with the flow and make some music. Thanks for your patience. I promise it'll be worth the wait!
-Rachel